Ideas for Decorating Your Outdoor Space with Solid Teak Furniture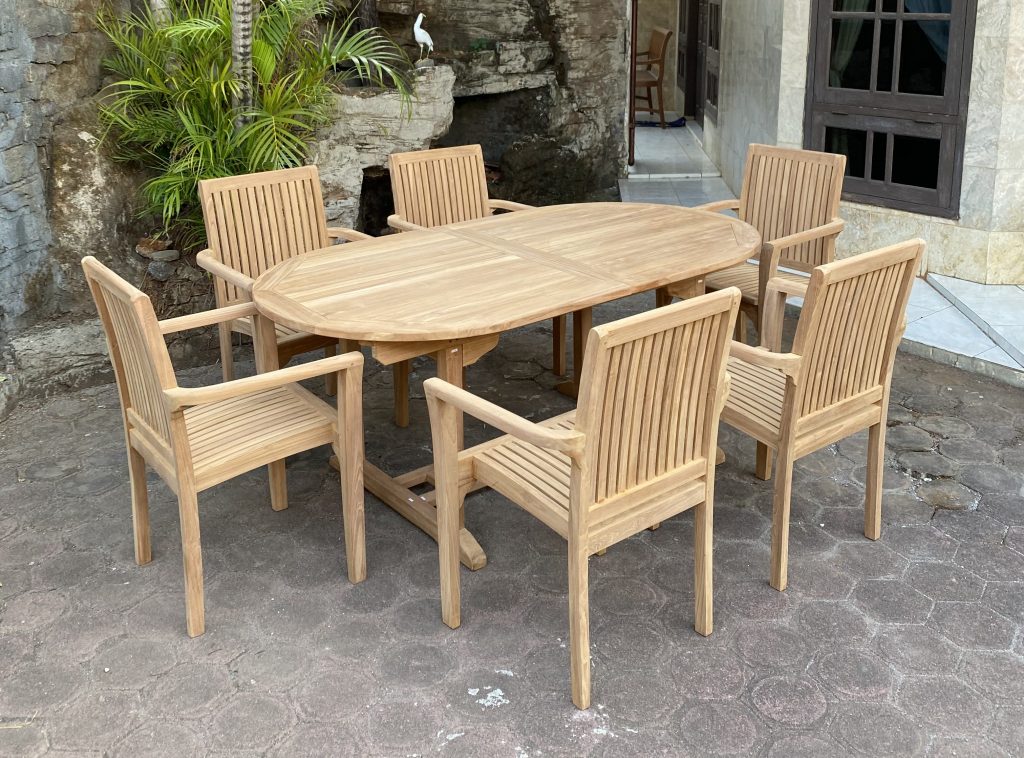 Are you looking for ways to make your outdoor area a cozy and stylish place where you can relax and entertain guests? Look no further, solid teak furniture is the perfect solution for outdoor decoration. Solid teak furniture is durable, low-maintenance, and gives off natural warmth and beauty to your space. In this article, we'll share some great ideas on how to decorate your outdoor space with solid teak furniture.
Why Solid Teak Furniture is the Best Option for Outdoors
Solid teak furniture is a great choice for outdoor spaces, and here's why:
1) Durability: Solid teak furniture is strong and resilient, able to withstand extreme weather conditions and not lose its stunning appearance.
2) Low-maintenance: Teak is a type of hardwood that is low-maintenance and requires minimal upkeep.
3) Resistant to pests and decay: Teak wood is naturally resistant to pests and decay, which makes it an excellent contender for outdoor use.
4) Elegant appearance: Solid teak furniture has a natural, elegant look that complements any outdoor space, whether modern or traditional.
5) Comfort: Teak wood's natural oil content gives it a soft feel, making it ideal for outdoor furniture where comfort is essential.
Ideas for Decorating with Solid Teak Furniture
1. Dining Set
A dining set made with solid teak furniture is an excellent option for outdoor dining. In addition, it can double as a relaxing outdoor workspace after dinner or brunch. A solid teakwood dining set is easy to clean, resistant to water, and can withstand a variety of outdoor weather conditions.
2. Chaise Lounge
A chaise lounge is an excellent option for outdoor relaxation. Made with solid teak, it is not only comfortable but is also durable, resistant to decay and pests, and looks great. A chaise lounge made with teak is the perfect furniture to relax and soak up the sun in comfort.
3. Patio Bench
A solid teakwood patio bench is a timeless piece that fits great in any outdoor space. It is perfect for placing under a shade tree or on your patio area for those evening talks with friends and family.
4. Garden Seating Area
If you have an open outdoor area, creating a garden seating area with solid teak furniture can provide a comfortable, relaxing, and sophisticated space. You can place a set of benches made of solid teakwood around the perimeter, add a couple of potted plants, and voila! You have an outdoor oasis that invites you to unwind.
5. Conversation Set
A teak conversation set is a great option for an outdoor area, whether you place it on a patio, deck, or balcony. The set is perfect for entertaining guests or having an intimate chat with friends. It gives your outdoor space a sophisticated and elegant look.
6. Hammock/ Swing Chair
Create a relaxing outdoor space where you can unwind with a hammock or swing chair made from solid teak furniture. These pieces can be customized to fit in a variety of outdoor spaces and provide additional seating options.
7. Sun Lounger
A sun lounger made of solid teakwood is perfect for bolting. It is water-resistant, easy to clean, and gives the space an elegant look. The sun lounger is an excellent piece to lay poolside or face the sun without compromising comfort.
8. Coffee Table
A center or coffee table made from solid teak is a unique piece of furniture that can add an artistic touch to the outdoor setting. You can place a colorful flower vase or a small plant on top of it, and it will give your outdoor space a vibrant look.
9. Planter Box
Teak planter boxes are great for creating an inviting outdoor garden. You can use them to plant herbs, vegetables, or even flowers to create a refreshing outdoor space.
10. Outdoor Kitchen Cabinets
If you love entertaining outdoors and cooking, installing outdoor kitchen cabinets made from solid teakwood can be a terrific idea. The cabinets provide the perfect outdoor storage space for your cooking and dining essentials while adding to your outdoor décor.
11. Adirondack Chairs
Adirondack chairs have become very popular and offer a classic look for an outdoor space. Made of solid teakwood, they are resistant to weather elements, requiring no maintenance other than routine cleaning.
12. Serving Table
A serving table made of solid teakwood can go well with outdoor seating areas. You can use the table to serve food or drinks. Additionally, you can add small pots of flowers on it for a lovely decoration.
13. Outdoor Bar
Adding an outdoor bar to your outdoor living space is a great way to keep guests entertained. You can install a teak bar, add some bar stools, and create an outdoor space that's perfect for your next gathering.
14. Picnic Table
A picnic table made of solid teakwood is a perfect spot for outdoor meals, barbeques, and picnics. It provides ample space for seating and is durable enough to withstand the outdoor elements.
15. Rustic Outdoor Bench
A rustic outdoor bench made of solid teakwood is a great addition to any outdoor space, adding a charming and cozy look. You can customize the bench with cushions or a throw blanket for extra comfort.
Final thoughts
Solid teak furniture is a perfect choice for outdoor décor, providing a timeless and elegant look that is both practical and comfortable. With these great ideas for decorating your outdoor space with solid teak furniture, you can transform your outdoor space into a cozy and stylish oasis that you and your guests will enjoy for years to come.